Zesty and tangy with a spicy kick, this Russian Dressing recipe comes together in 5 minutes and is delicious as a salad dressing, dipping sauce, and spread for all your favorite veggies, meats, sandwiches, and so much more!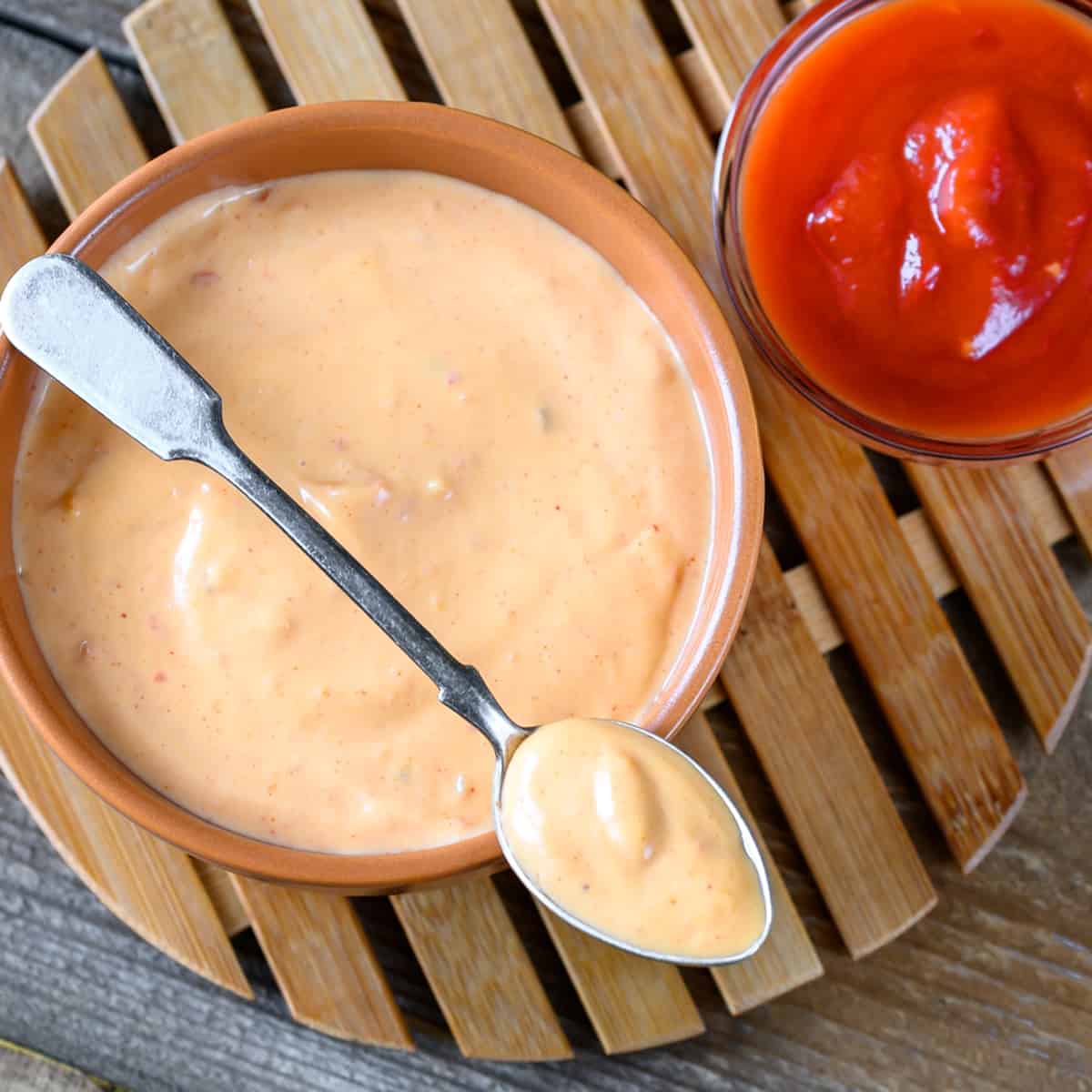 What is Russian Dressing?
Despite its name, Russian dressing is an American dressing.  It is a creamy, slightly spicy, tangy dressing consisting primarily of mayonnaise, chili sauce (or ketchup), onion, Worcestershire sauce, and paprika and has a characteristic pinking hue.  It's used as a salad dressing, spread, or dip, but probably its most popular use is as the key sauce for the Reuben Sandwich.
Where Did Russian Dressing Originate?
Its exact origins are unknown but Russian dressing is believed to have been created in the early 20th century either by Russian immigrants or American chefs inspired by Russian cuisine.  An early published mayonnaise-based Russian dressing dates back to 1914, an earlier version without mayonnaise dates back a year earlier.  Another theory traces the dressing's roots to a spicy variation of Thousand Island dressing.
Russian Dressing vs. Thousand Island Dressing – What's the Difference?
They are both very similar but there are a couple of key differences.  Russian dressing is spicier and more savory while Thousand Island is sweeter.  This is because Russian dressing does not typically include sweet pickle relish (though some variations include it) and it incorporates horseradish and Worcestershire sauce.  Thus Russian dressing is also typically smoother in consistency than the chunkier Thousand Island dressing.  With its inclusion of Worcestershire sauce, Russian dressing also has a deeper and more complex flavor profile.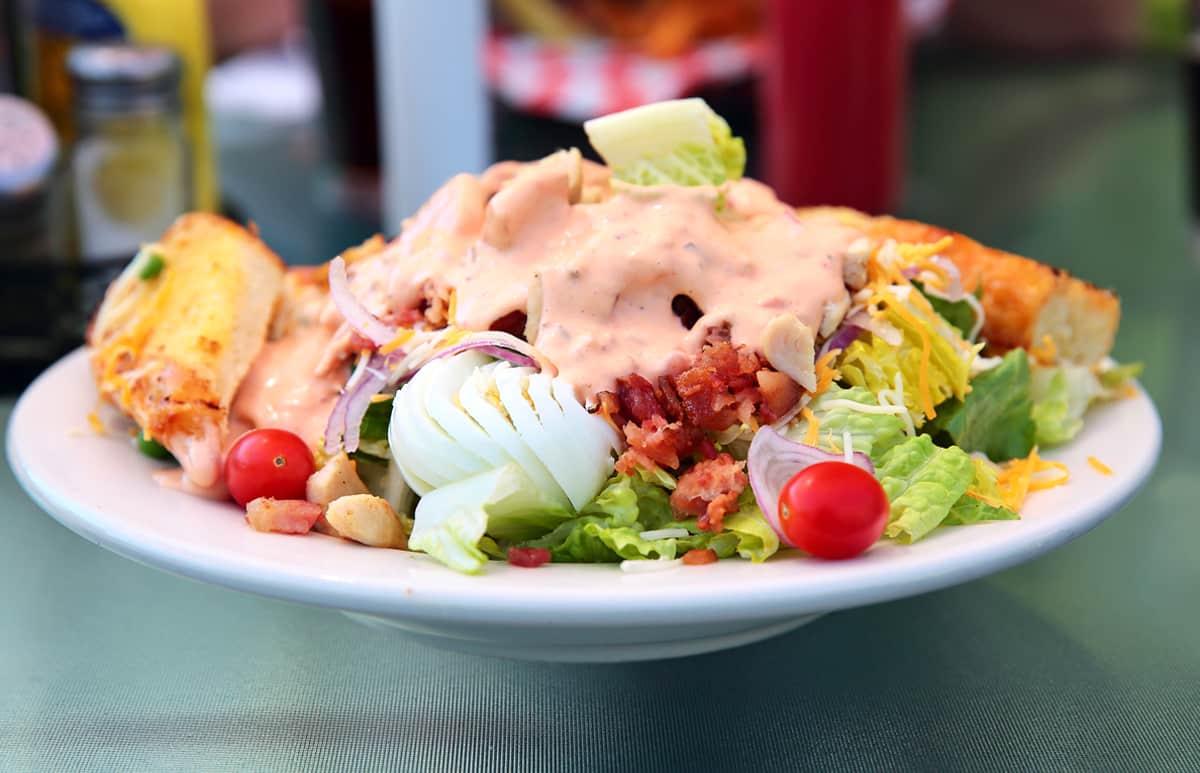 © Joycemarrero | Dreamstime
How to Use Russian Dressing
Russian dressing is very versatile and can be used in a number of delicious ways.  Here are a few ideas:
Sandwich Spread:  This makes a terrific spread for sandwiches and wraps, whether with chicken, turkey, ham, or beef.  It is the key signature sauce for the Reuben Sandwich.
Dipping Sauce: Use it as a dip for veggies, pita chips, potato chips, pretzels, fries, onion rings, chicken nuggets, fish sticks, mozzarella sticks, you name it.
Grilled Meats and Veggies:  Spread it on your burgers, hot dogs, and grilled veggies.
Seafood: This goes great with things like shrimp, crab cakes and fish cakes.
Glaze for Meat: Use it as a glaze for grilled or roasted meats and poultry.  Brush the meat with it during the last few minutes of cooking.
Deviled Eggs: Mix this with the mashed egg yolks for a flavorful twist.
Salad Dressing:  Drizzle it over your mixed salad greens.  Of course, this dressing will make your salads taste amazing!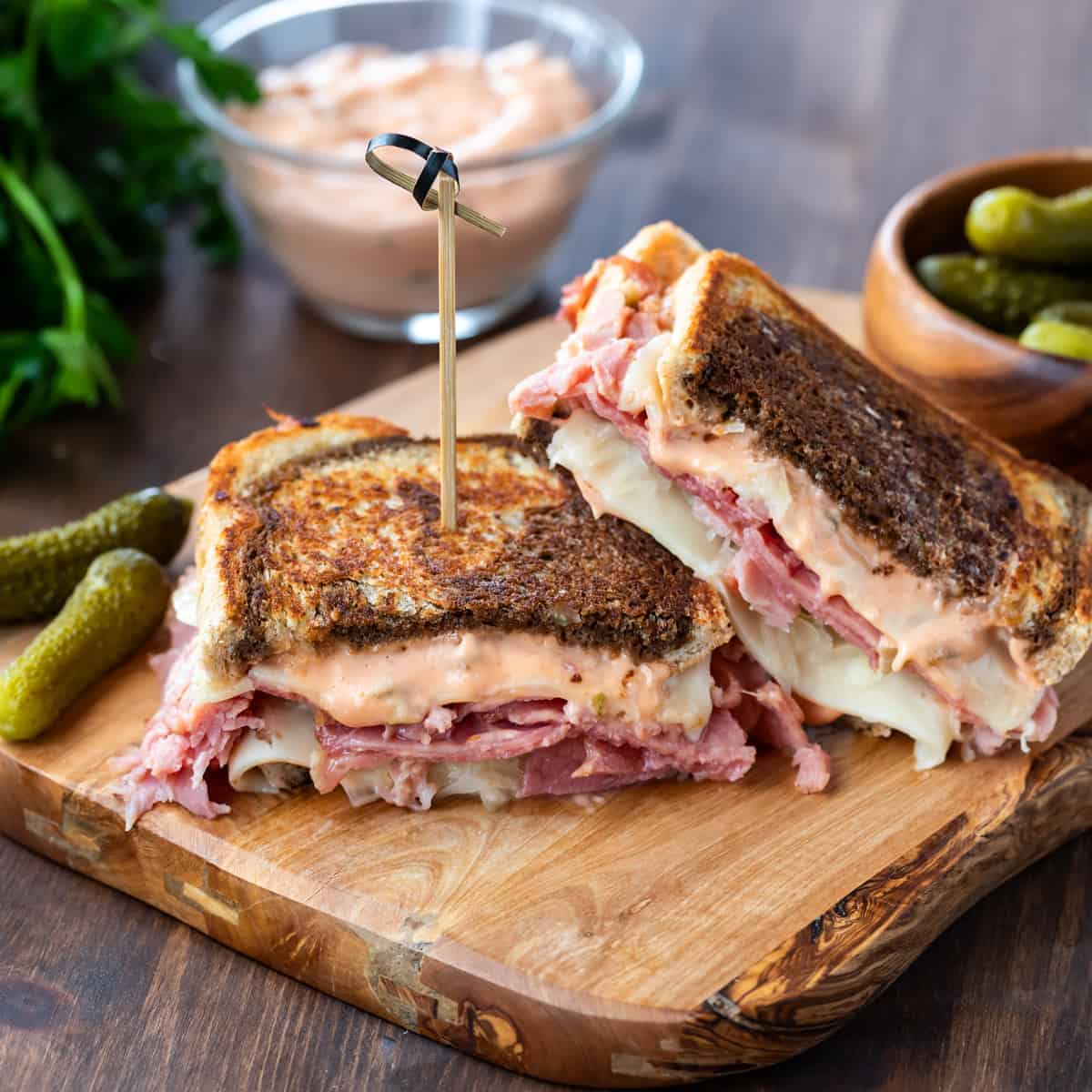 Russian Dressing Recipe
To make homemade Russian dressing simply combine all of the ingredients in a bowl.  The flavors need time to meld before serving, so cover and refrigerate overnight.
Keep the dressing stored in an airtight container in the fridge and it will keep for up to a week.
Enjoy!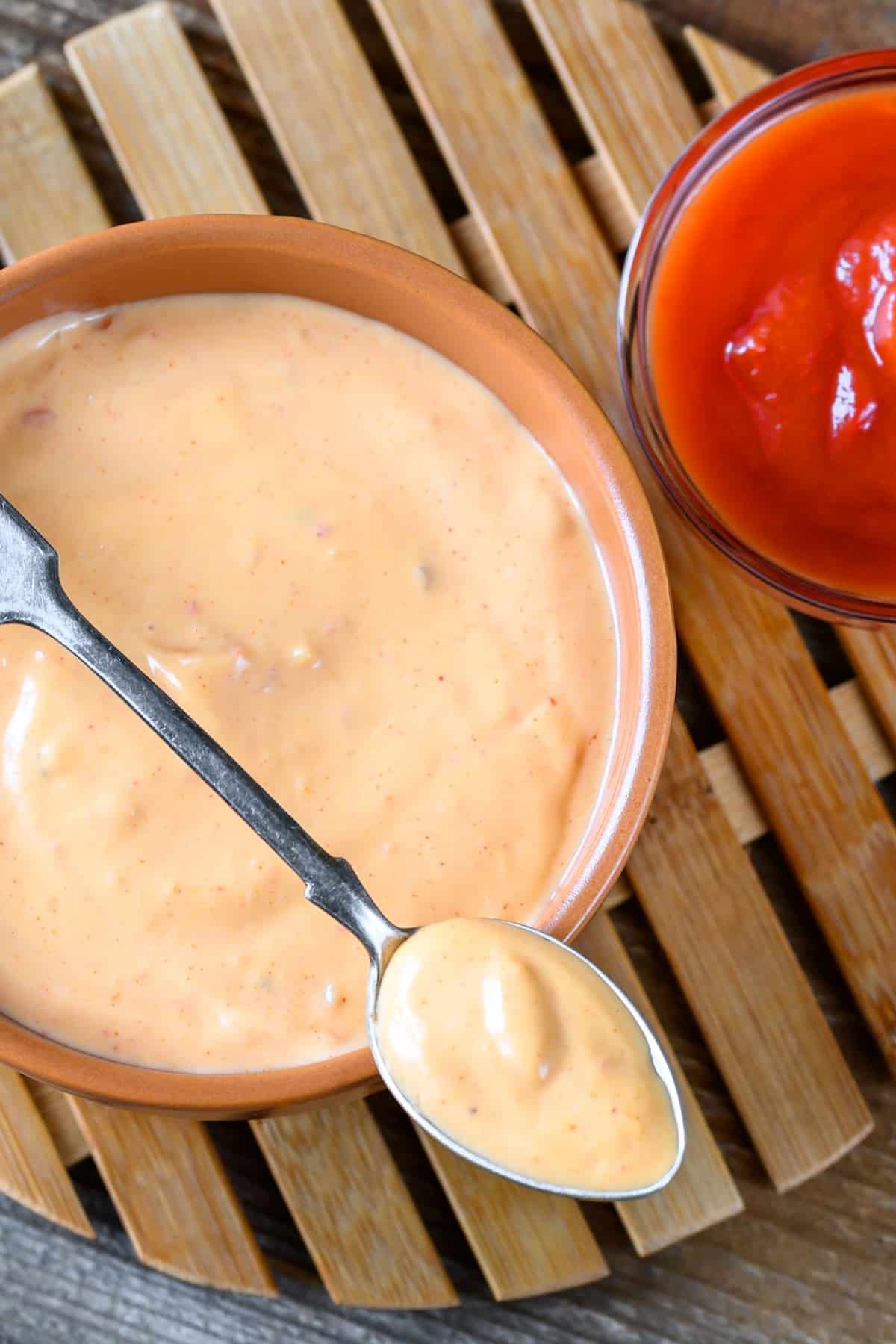 For more delicious homemade dressings and sauces be sure to try our: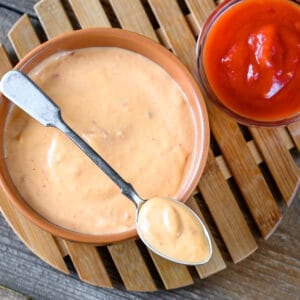 Russian Dressing
Zesty, tangy and spicy, this Russian Dressing is deliciously versatile as a salad dressing, dipping sauce, sandwich spread, and more!
Ingredients
1

cup

quality mayonnaise

1/3

cup

ketchup style chili sauce

(e.g., Heinz chili sauce)

1

tablespoon

very finely minced onion

2-3

teaspoons

prepared horseradish

, add more or less according to heat preference

1

tablespoon

Worcestershire sauce

2

teaspoons

sugar

1

teaspoon

red wine vinegar

1

teaspoon

prepared yellow mustard

1/2

teaspoon

paprika

1/2

teaspoon

salt

1/4

teaspoon

freshly ground black pepper

1/8

teaspoon

garlic powder
Instructions
Combine all the ingredients together in a bowl. Cover and refrigerate overnight to give the flavors time to meld. Will keep for up to a week.
Nutrition
Serving:
2
tablespoons
|
Calories:
137
kcal
|
Carbohydrates:
2
g
|
Protein:
0.4
g
|
Fat:
14
g
|
Saturated Fat:
2
g
|
Polyunsaturated Fat:
8
g
|
Monounsaturated Fat:
3
g
|
Cholesterol:
8
mg
|
Sodium:
332
mg
|
Potassium:
43
mg
|
Fiber:
0.3
g
|
Sugar:
2
g
|
Vitamin A:
106
IU
|
Vitamin C:
2
mg
|
Calcium:
5
mg
|
Iron:
0.2
mg