The famous dressing that has captured the hearts and stomachs of people far and wide for over a century!  This Thousand Island Dressing recipe combines the perfect ratio of ingredients for a deliciously versatile sauce you can enjoy on your salads, Reuben sandwich, as a dip, and more!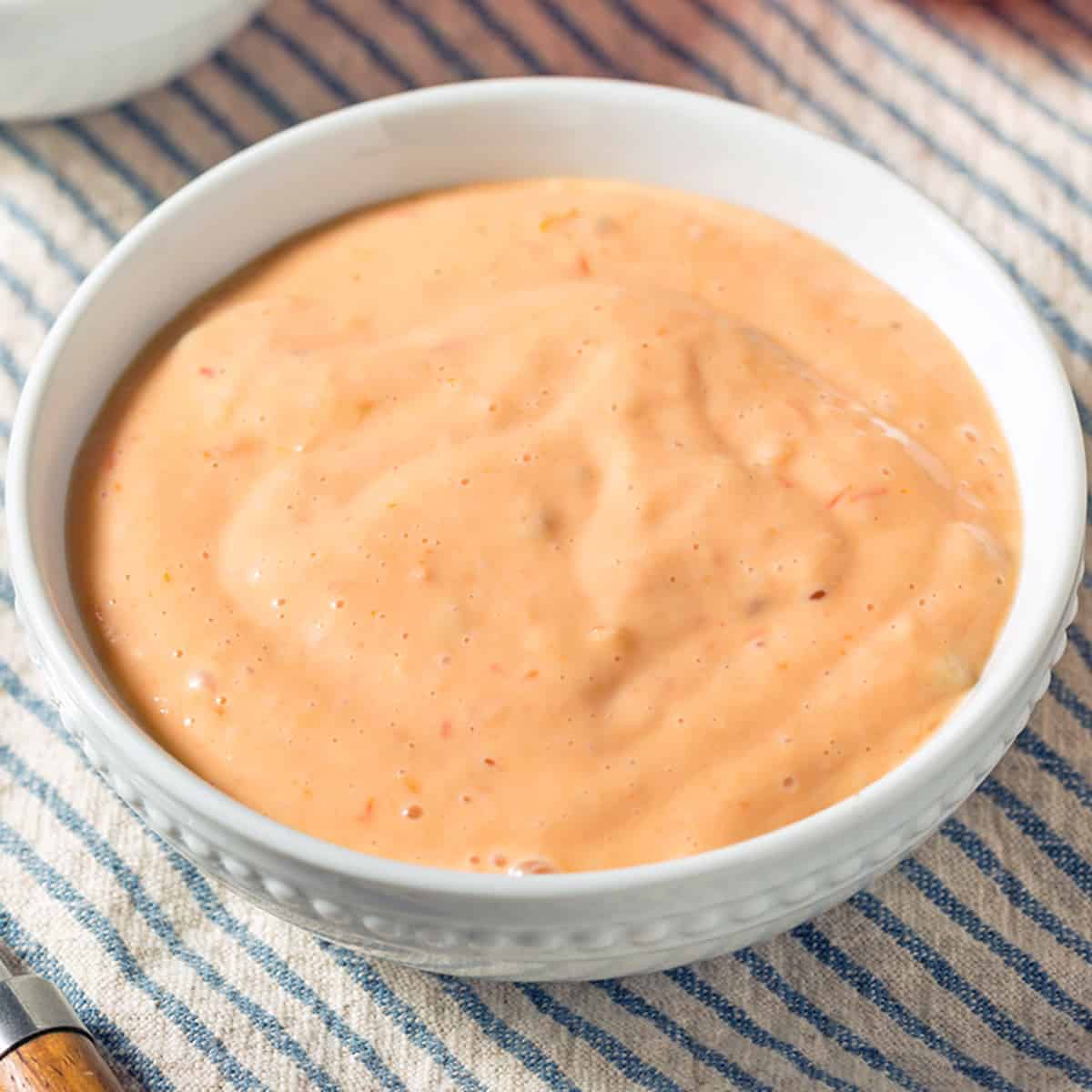 Make your own homemade Thousand Island Dressing without all of the junk ingredients of store-bought and that also tastes a whole lot better!
What Is Thousand Island Dressing?
Thousand Island dressing is a popular salad dressing and sauce featuring a combination of mayonnaise, ketchup, pickle relish, and onion, and is known for its creamy texture and sweet-tangy flavor.  It's not only used as a salad dressing but also as a versatile condiment such as a dip and spread.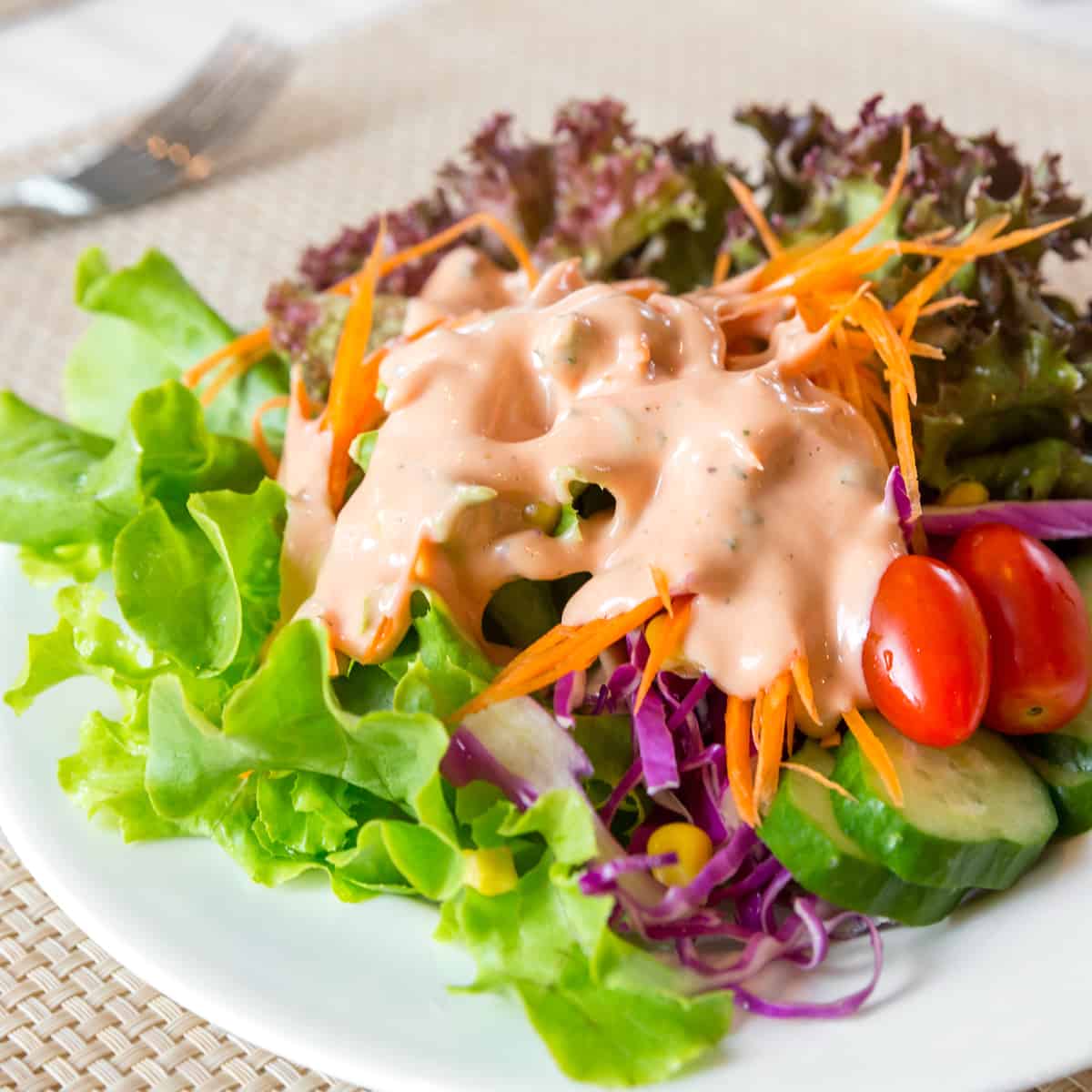 Where Did Thousand Island Dressing Originate?
Thousand Island dressing is believed to have originated in the Thousand Islands of the St. Lawrence River between the United States and Canada.  While its origins aren't entirely clear, the dressing is often attributed to a woman named Sophia LaLonde in the late 19th century.  Sophia was a fisherman's wife and the story goes that she created the dressing for him when he worked as a fishing guide to serve with his catch of the day.  The popularity of this dressing soon spread, gaining popularity in both the United States and Canada in the early 20th century.
Many variations of Thousand Island Dressing exist and since its origin isn't entirely clear, there is no way of verifying which version is the most "authentic."  One of the earliest published recipes for Thousand Island Dressing was published in 1907 and comes from a cookbook called The Epicurean by Charles Ranhofer, the chef of the famous Delmonico's Restaurant in New York City.  Just to show you how varied recipes for this dressing are, this 1907 recipe was made using mayonnaise, chili sauce, hard-boiled egg, green bell peppers, pimento-stuffed olives, and chives.
Today the "standard" recipe for Thousand Island Dressing omits everything here but the mayonnaise and instead uses pickle relish, onion, and ketchup.  Minced hard-boiled eggs are rarely used anymore because most people agree the flavor can be overpowering and often gives off an odor of sulfur, especially if the dressing isn't eaten the same day.  For these reasons I omit but if you prefer to include it you can add 1-2 tablespoons of finely chopped hard-boiled eggs.
How to Use Thousand Island Dressing
Thousand Island dressing is a versatile condiment that can be used in a variety of ways to add flavor and creaminess.  Here are a few common ways to use it:
Salad Dressing: Drizzle it over your favorite greens, tomatoes, cucumbers, and other salad ingredients. It pairs well with garden salads, chicken salads, and even seafood salads.
Chicken or Seafood Salads:  Add some to the base sauce of your chicken salad or seafood salad.
Sandwich Spread: Use it as a spread for sandwiches and burgers. It's a signature component of the Reuben Sandwich where Thousand Island has largely supplanted the more formerly used spicy Russian dressing.
Dipping Sauce: Use it as a dip for raw vegetables, such as carrot and celery sticks, bell pepper slices, and broccoli florets. It's also great as a dip for chicken nuggets, fish sticks, mozzarella sticks, French fries, and potato wedges.
Seafood Sauce: This pairs nicely with crab cakes, fish cakes, shrimp, or fish fillets. It's also great as a dipping sauce for fried seafood.
Baked Potatoes: Top baked potatoes with it along with some bacon bits and chives for a yummy twist on the classic loaded baked potato.
Wrap or Quesadilla Sauce: Add a dollop to your wraps, quesadillas, or burritos for added creaminess and flavor.
Sauce for Grilled Meats:  Drizzle it over grilled meats, such as chicken, steak, or pork chops, to add extra flavor and moisture.
Deviled Eggs: Mix it with the egg yolks for a tasty flavor variation.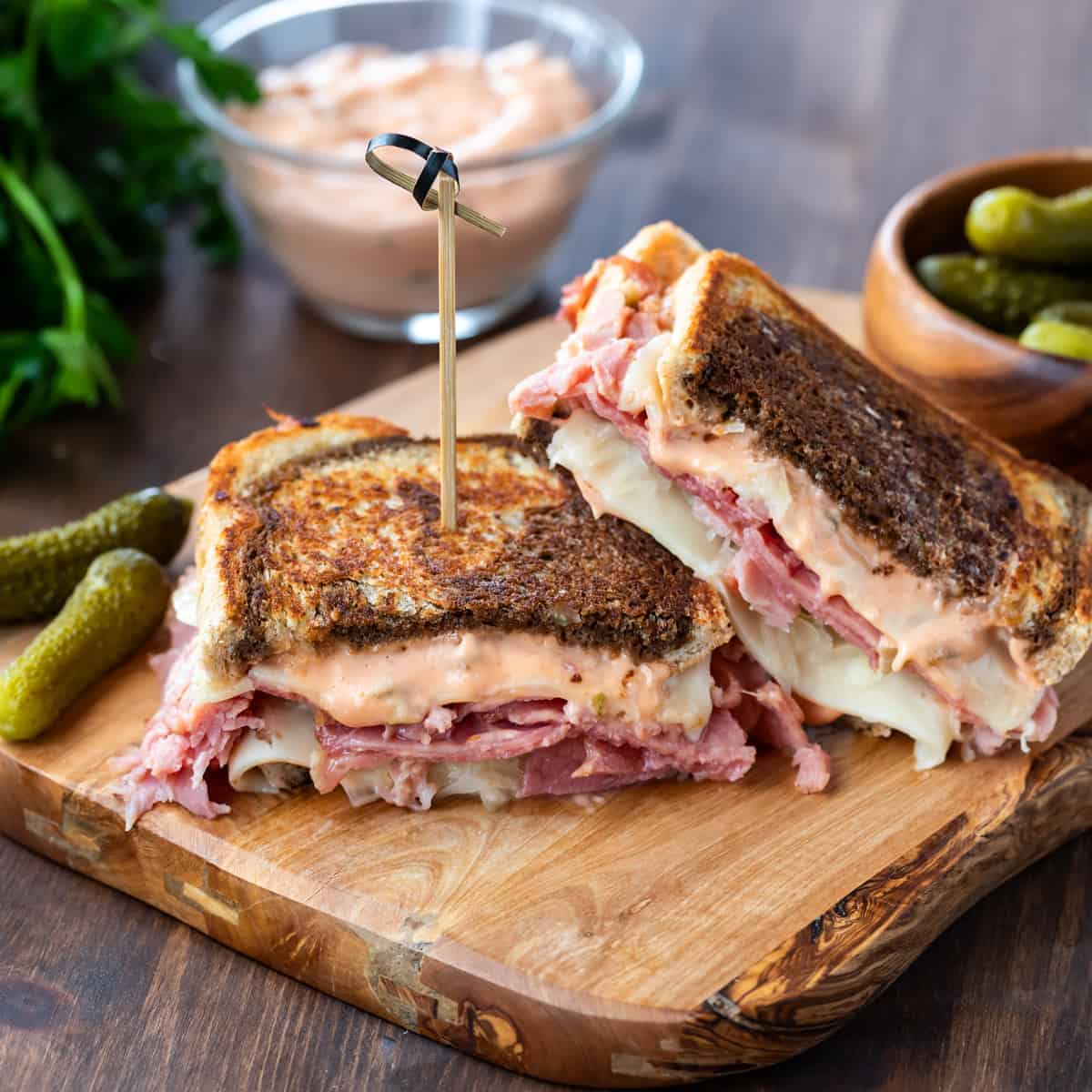 Thousand Island Dressing Recipe
To make homemade Thousand Island Dressing simply combine all of the ingredients in a bowl.  Cover and refrigerate overnight to give the flavors time to meld.
Stored in the fridge it will keep for up to a week.
Enjoy!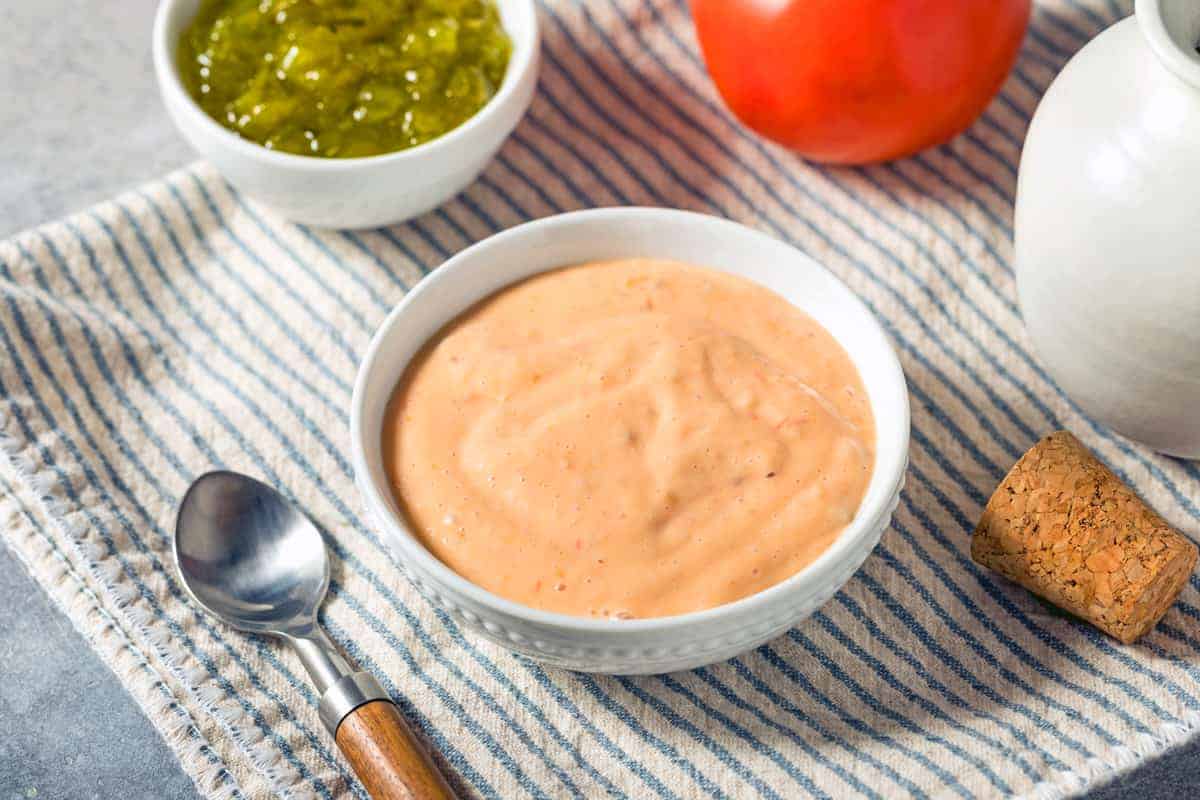 For more delicious homemade dressings and sauces be sure to try our: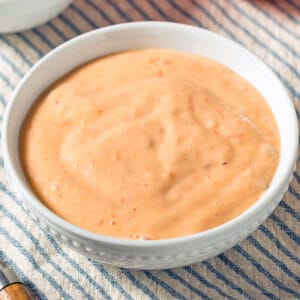 Thousand Island Dressing
Sweet and tangy, this Thousand Island Dressing is deliciously versatile as a salad dressing, sandwich spread, dipping sauce, and much more!
Ingredients
1

cup

quality mayonnaise

1/4

cup

ketchup

2

tablespoons

finely minced sweet pickle relish

2

tablespoons

finely minced sweet onion

2

teaspoons

sugar

1

teaspoon

white vinegar

1/2

teaspoon

sweet paprika

1/4

teaspoon

salt

1/8

teaspoon

freshly ground black pepper
Instructions
Combine all of the ingredients in a bowl.  Cover and refrigerate overnight to give the flavors time to meld. Will keep for up to a week.
Nutrition
Serving:
2
tablespoons
|
Calories:
139
kcal
|
Carbohydrates:
3
g
|
Protein:
0.3
g
|
Fat:
14
g
|
Saturated Fat:
2
g
|
Polyunsaturated Fat:
8
g
|
Monounsaturated Fat:
3
g
|
Cholesterol:
8
mg
|
Sodium:
233
mg
|
Potassium:
23
mg
|
Fiber:
0.1
g
|
Sugar:
3
g
|
Vitamin A:
109
IU
|
Vitamin C:
0.3
mg
|
Calcium:
3
mg
|
Iron:
0.1
mg