This post contains affiliate links.
I received some pasta from Pappardelle's for review.  All opinions are entirely my own.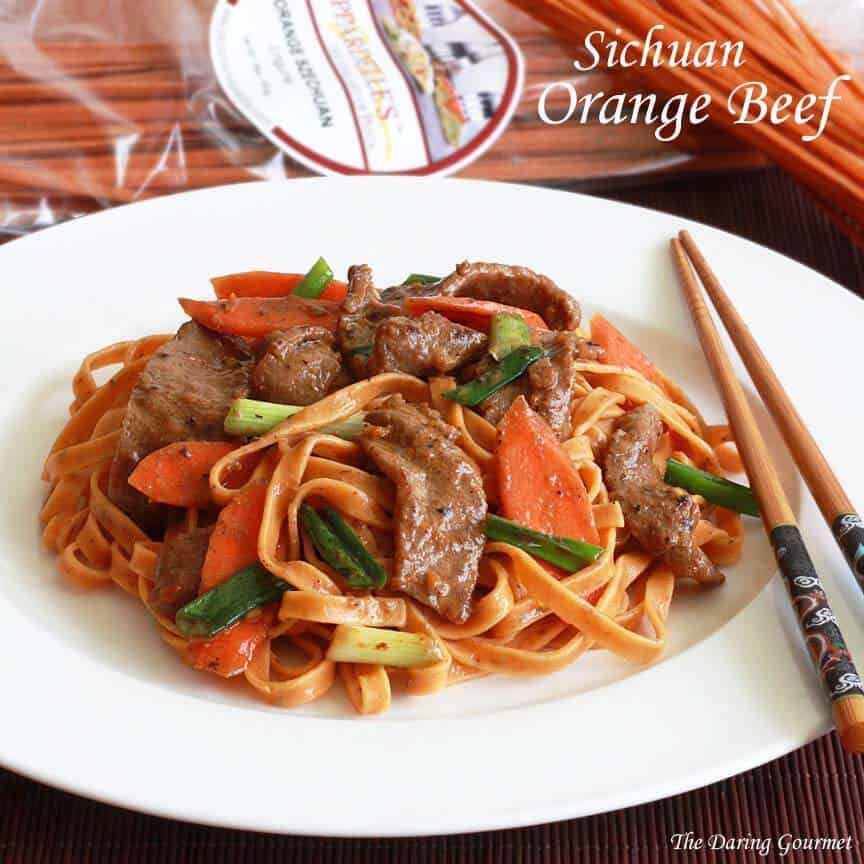 You don't have to order out or eat at a Chinese restaurant any more to enjoy Sichuan Orange Beef.  You can make it at home within just 15 minutes – just be prepared to have your socks knocked off by the flavor!  This isn't the overly-sweet, super goopey stuff you often find in restaurants here.  This version is more reminiscent of what you would find in Sichuan.
Sichuan is a region in southwest China and is also referred to as "heavenly country" because of its abundance of food and natural resources.  And it is of course home of Sichuan cuisine.  One ancient Chinese writer noted that the "people of Sichuan uphold good flavour, and they are fond of hot and spicy taste."  And he was certainly correct.  Kung Pao Chicken, another recipe you don't want to miss, is one example of sichuan cuisine.  The Pappardelle's pasta used in this Sichuan Orange Beef, Orange Szechuan Linguine, is actually quite spicy, hence the omission of additional heat in the recipe.  If you're using another pasta, or rice, you can add some red chilies or hot chile paste to the sauce to accommodate your taste.
I already shared how I feel about so-called "flavored" store-bought pasta in a previous post.  Exactly, what flavor??  The "flavor" is generally non-existent, which is why I've used Pappardelle's pasta again for this dish.  When they say "flavor" they mean FLAVOR.  I am not getting paid or otherwise compensated to promote Pappardelle's.  I just like sharing quality products with you that I've discovered and come to love.  Pappardelle's pasta is one of them.
Now, for the GIVEAWAY!  **THIS GIVEAWAY HAS ENDED***
And now for the RECIPE!!
Note:  This recipe calls for Sichuan Peppercorns, which have a very unique flavor that cannot be adequately substituted with anything else.  You can find them online HERE.
They're used in a great many Chinese dishes, including this fantastic Kung Pao Chicken.
Cut the beef into thin strips.
Zest and juice the entire orange.
Mince the ginger.
In a bowl, combine the orange juice, zest, ginger, sichuan peppercorns, soy sauce, cornstarch, sugar, and sesame oil.
Place the beef strips in the marinade/sauce and stir to combine.  Set the beef aside while you're preparing the remaining ingredients.
Thinly slice the carrots at a diagonal angle.  Slice the green onions diagonally in 1-inch pieces, keeping the white parts separate as they require a little longer cooking time than the soft green parts.
Heat the oil in a wok or skillet over high heat and quickly stir fry the beef, reserving the marinade/sauce.
Fry until lightly browned on all sides.
Add the carrots and white parts of the green onion and cook for 30 seconds.
Add the reserved marinade/sauce, reduce the heat, and simmer for two minutes.
Add the green onions and stir to combine.
That's it!  Now you have a perfectly luscious sauce.
Serve over Pappardelle's Orange Szechuan Linguine or pasta of your choice, or with steamed rice.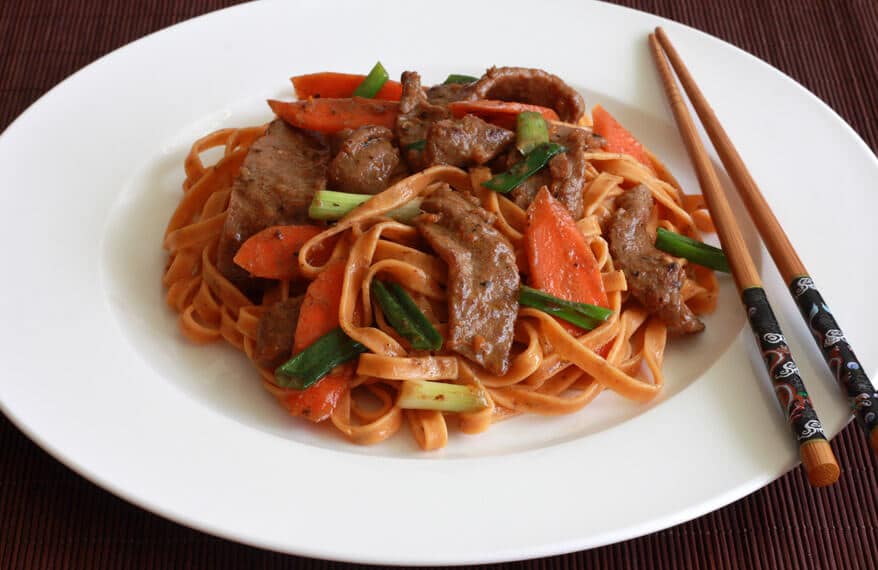 Asian food lovers, don't forget to try this recipe for the Best Homemade Teriyaki Sauce!

Sichuan Orange Beef (+ GIVEAWAY!)
:
The Daring Gourmet, www.daringgourmet.com
Ingredients
8 oz. Pappardelles Orange Szechuan Linguine or pasta of choice, prepared al dente according to package directions (or serve with rice if preferred)
8 oz. lean beef steak, cut into thin strips
1 tablespoon vegetable oil
1 large carrot, thinly sliced diagonally
3 green onions, sliced diagonally in 1 inch pieces, the whites separated from the greens
For the marinade/sauce:
3 tablespoons soy sauce
2 teaspoons cornstarch
1 teaspoon sugar
2 teaspoons fresh ginger, minced
2 teaspoons sesame oil
½ teaspoon ground sichuan peppercorns
Zest of one orange (about 1 tablespoon)
Juice of one orange (about ¼-1/3 cup)
Instructions
Combine all the marinade/sauce ingredients in a medium bowl. Add the beef and stir to combine. Set aside while preparing carrot and green onions.
Heat the oil in a wok or skillet over high heat. Add beef, reserving the marinade, and fry quickly until lightly browned. Add the carrot and the whites of the green onions and stir fry for 30 seconds.
Add the marinade/sauce and stir to coat. Simmer for 2 minutes. Add the remaining green onions and stir to combine.
Serve the beef mixture over the hot pasta.