Featuring the perfect texture, creaminess and balance of flavors, this classic potato salad recipe is simply the BEST!  Whether you enjoy it at home or take it on a picnic or to a potluck, this is sure to be a hit!
How to Make The BEST Potato Salad
Potato salad is one of those dishes practically everyone claims they have the best recipe for.  (I know, dangling participle.  But the grammatically correct way just sounds so darned highfalutin!)   But most potato salads are downright uninspiring.  In my experience most of them are either too dry, too wet, too mushy, not salty enough, lack flavor, and are just overall bland.
This creamy Classic Potato Salad features the perfect balance of textures and flavor and is a potato salad you can feel proud to show off at your next barbecue, picnic, potluck or family dinner!
Before we get to the recipe, let's dispel a commonly held belief about potato salad and food poisoning, because the two get thrown together a lot.
Myth-buster:  Despite common belief that the mayonnaise is the culprit, the fact is that mayonnaise can actually help inhibit the growth of food-borne bacteria because of its high acidity level (vinegar, lemon juice, salt).  Plus store-bought mayonnaise is highly pasteurized.  So when you hear about potato salad having caused food poisoning, what actually caused it?
Usually it's the protein-based ingredients added to the salad like chicken, ham, tuna, eggs, or even the potatoes themselves.  Cooked starchy vegetables like potatoes can be an incubator for bacteria if not stored properly.  Another reason for bacteria growth has to do with the preparation of the potato salad – it involves a lot of hand contact with the ingredients (eg, chopping, dicing, slicing).  So the takeaway here is to just wash your hands and the vegetables thoroughly, use a clean working surface, and store your potato salad properly and you can wave goodbye to food poisoning.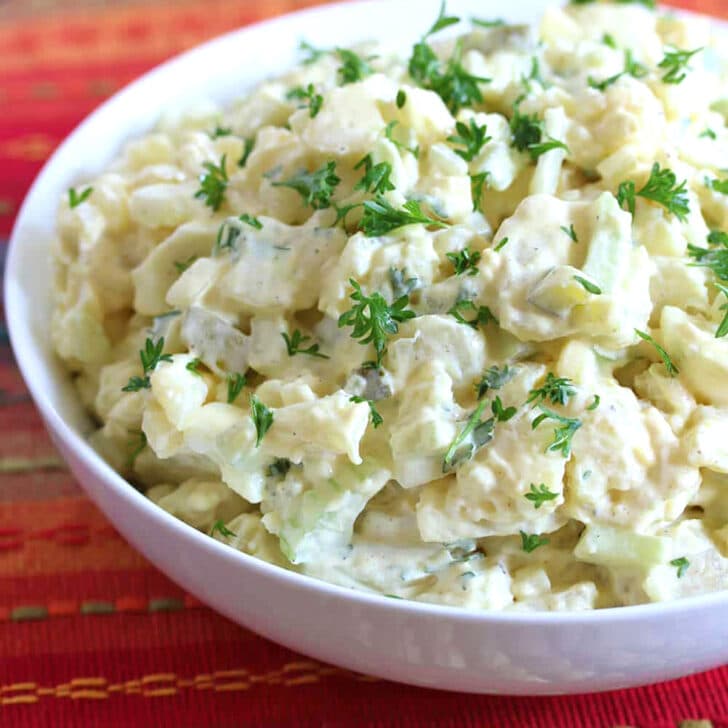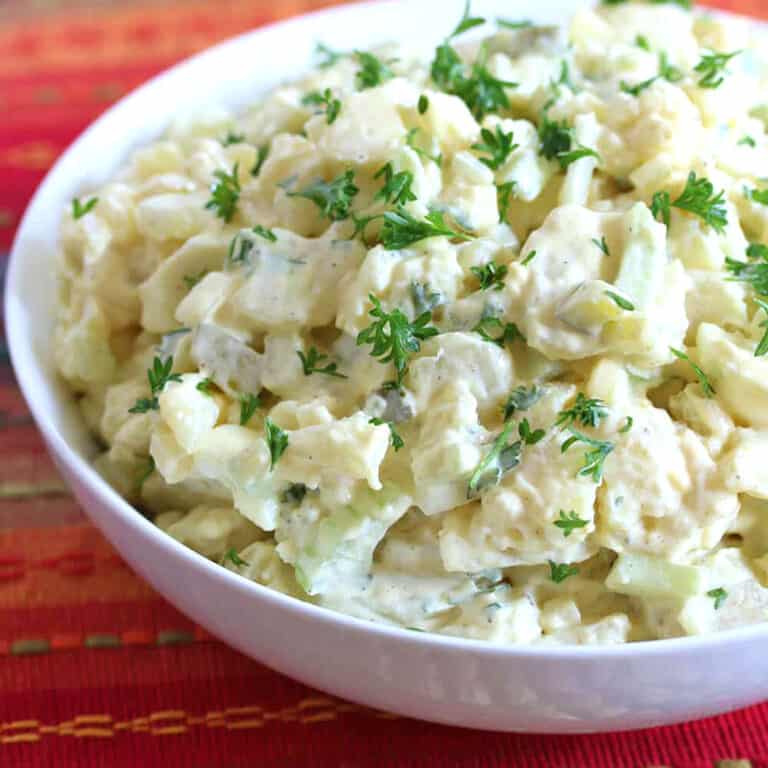 Classic Potato Salad Recipe
Let's get started!
Chop the onions, celery and pickles and place them in a large mixing bowl.
In a medium-sized bowl, combine the sauce ingredients.
Add the potatoes and chopped eggs to the mixing bowl along with the mayonnaise mixture.
Carefully stir the ingredients together until combined being as careful as you can not to break up the potatoes too much.
Let the salad refrigerate for at least a couple of hours before serving.
This salad gets better and better the longer it sits and is fantastic the next day!
Enjoy!
Be sure to try these other delicious salads: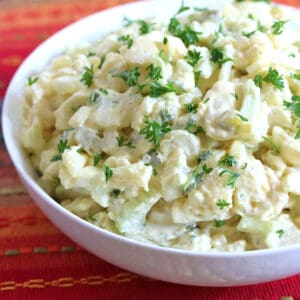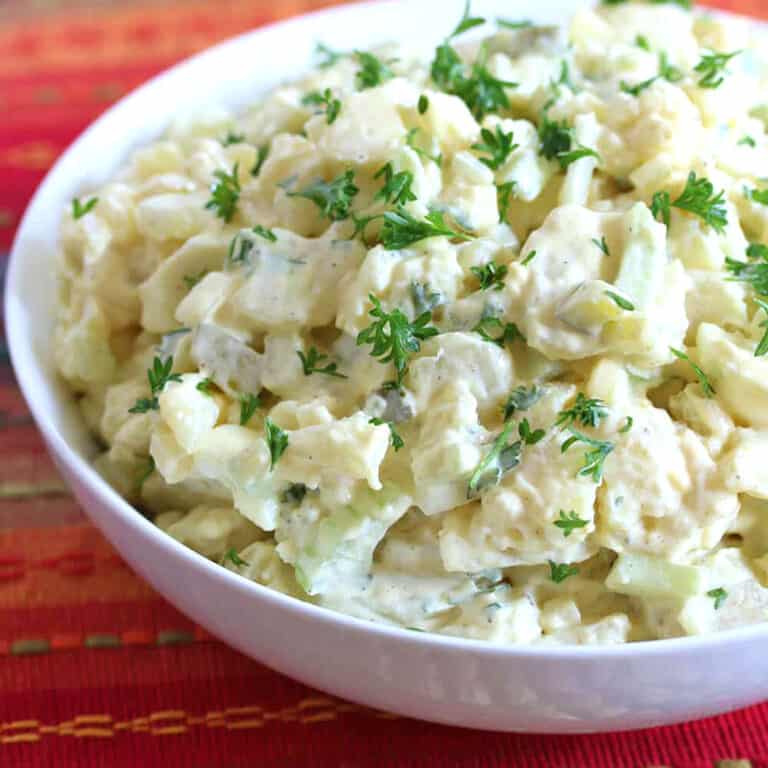 Classic Potato Salad
Wonderfully creamy with the perfect texture and balance of flavors, this classic potato salad is sure to get rave reviews!
Ingredients
3

pounds

firm yellow potatoes

, scrubbed and boiled with skins on in lightly salted water (do not overcook or the potatoes will be mushy), then peeled and left to cool completely before slicing

1/3

cup

chopped dill pickles

(can use sweet pickles if you prefer)

2

large celery stalks

, chopped

1

medium yellow onion

, chopped

4

large boiled eggs

, chilled and then chopped

For the Mayo Sauce:

2

cups

mayonnaise

2

tablespoons

brown mustard

2

tablespoons

white vinegar

1

teaspoon

salt

1/2

teaspoon

freshly ground black pepper

1

tablespoon

sugar

1/4

cup

chopped fresh parsley
Instructions
Sliced the cooled potatoes into 1/4 inch rounds. Place in a large mixing bowl along with the chopped vegetables and eggs.

To make the Mayo Sauce, combine all the ingredients in a medium-sized bowl.

Pour the sauce over the potato salad and stir very carefully until combined, being as careful as you can not to break up the potatoes too much.

Refrigerate for at least 2 hours before serving, preferably longer. This potato salad gets better the longer it sits. It's fabulous the next day.
Nutrition
Calories:
687
kcal
|
Carbohydrates:
44
g
|
Protein:
10
g
|
Fat:
57
g
|
Saturated Fat:
9
g
|
Cholesterol:
140
mg
|
Sodium:
862
mg
|
Potassium:
1085
mg
|
Fiber:
6
g
|
Sugar:
6
g
|
Vitamin A:
432
IU
|
Vitamin C:
50
mg
|
Calcium:
70
mg
|
Iron:
3
mg
Originally published on The Daring Gourmet on Jul 18, 2015